The New York Times Top Stories
Aug 7, 2016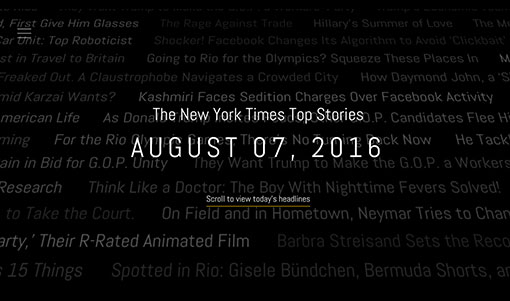 The New York Times Top Stories is an immersive mini web-app that displays all of today's New York Times Top stories. It uses CSS Animations and Transitions extensively. The stories are provided by the New York Times API and retrieved through AJAX.
Notes
The web app aims to solve the information overload problem of traditional news websites and provides a immersive, relaxed and comfortable experience for reading news online.
This web app focuses on UI. Animations are heavily used here to convey the meaning of real-time, speed, information and story telling. Typography is also emphasized here and used to signal information architecture.
The principle of an ambient display (to display information in the periphery of a user's attention) and the 12 animation principles are used in this web app.
Cookies are used to store the user's preferences.