Engineering iTunes with HTML5 and CSS3
Dec 10, 2012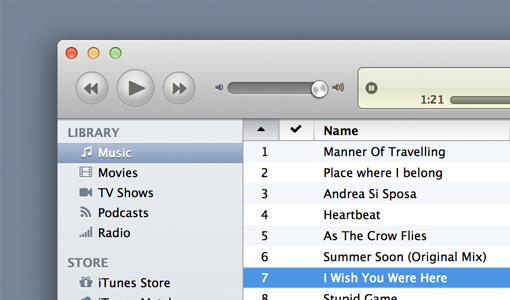 Without resorting to any pictures or images, I created an iTunes music player with pure HTML5 and CSS3. There are two objectives in this project:
to investigate the application of the box-shadow and gradient properties of CSS3 in user interface design;
to utilize the native support of audio playback in HTML5 and build custom-made playback controls.
Features
All user interface elements are created using CSS3 and webfonts only. No images are used in this project.
Playback support is provided by HTML5. No plug-ins are used.
Playback buttons are clickable and usable.
Volume control is draggable and usable.
Progress bar is draggable.
Songs can be filtered by typing keywords in the search box.
Usage
Click on a song in the playlist to connect to server and play. The user can then control playback, volume and progress, and filter songs using keywords.
Known Issues
This demo currently works smoothly only on Webkit browsers.
Since the audio format that Firefox supports does not include MP3, music cannot be played.
On Windows, the logo of Apple cannot be displayed.
Remaining time cannot be displayed correctly in Safari.
There is a sudden jump when the user begins to control volume or progress. This is due to fact that the jQuery UI library is not fully compatible with CSS scale.
Notes
You are recommended to view this demo with Chrome on Mac OS X.
The songs used in this project are purely for demo purposes. They are streamed from Jamendo, which provides music free to download and license.