Rififi
Co-Creator
Rififi (https://www.rififi.design) is a note-taking and affinity diagramming tool designed by me and my friend Ajayan Subramanian.
Key Goal
Create a web app that can relieve the pain of UX researchers when they try to create large affinity diagrams that consist of hundreds of notes.
Responsibilities
User research (interviewing UX researchers/designers)
User flow
Ideation
Wireframing
UI Design
Front-end/back-end coding
Timeline & Team
Started in Feb 2017
Spent roughly 1 year designing and coding the MVP
My friend and I worked on this project remotely.
Synced once a week through Skype
User Research
I interviewed my classmates who were researchers/designers, and emailed other designers in the UX field, trying to listen to their struggles of creating affinity diagrams. We then identified design opportunities from those interviews and created the persona of our users.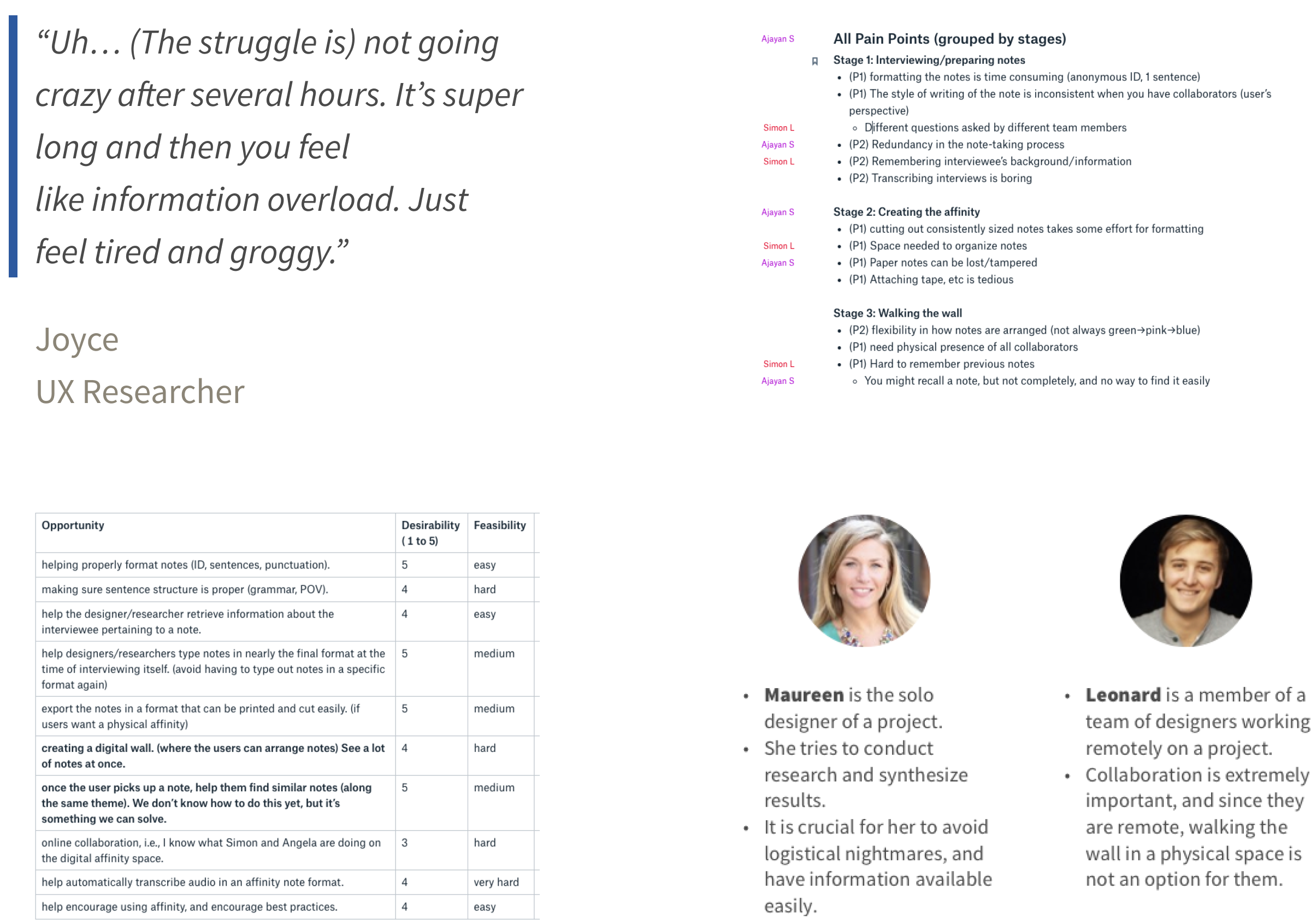 Experience Design
Ideation
At this point, we knew quite clearly what problems we needed to solve, so we started brainstorming different solutions. Here are the rough sketches of my ideas for affinity creation.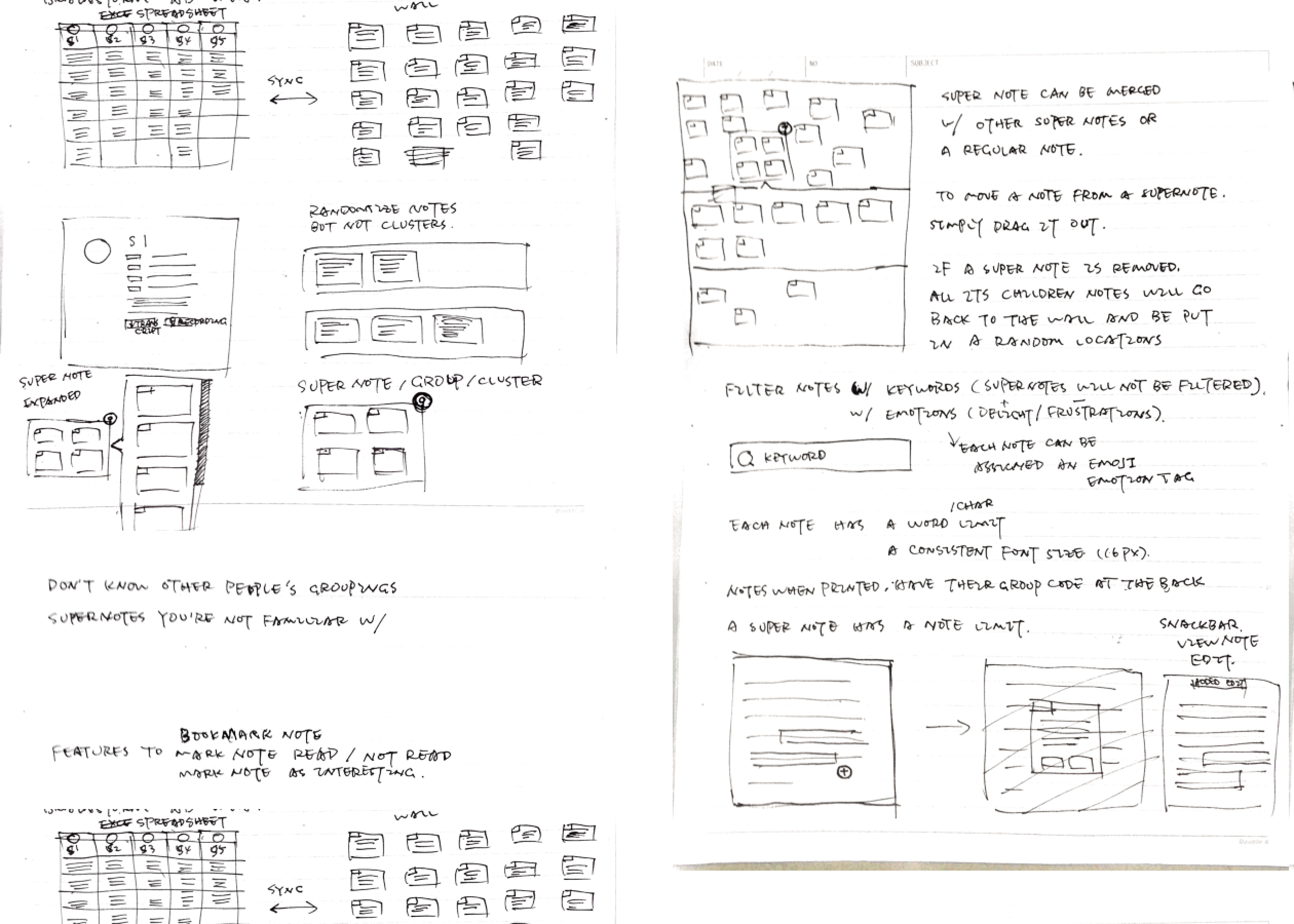 User Flow
I created a detailed list of features that we wanted to include in the MVP. Then a flow diagram is created to show the flows between different screens. We also decided that there would be four sections in the app: research questions, participants, interview notes and affinity diagrams.

Wireframing
We were pretty sure about what screens we would like to have after creating the user flow. We then moved on to creating wireframes for the screens. On the right are the wireframes that I created for the affinity part.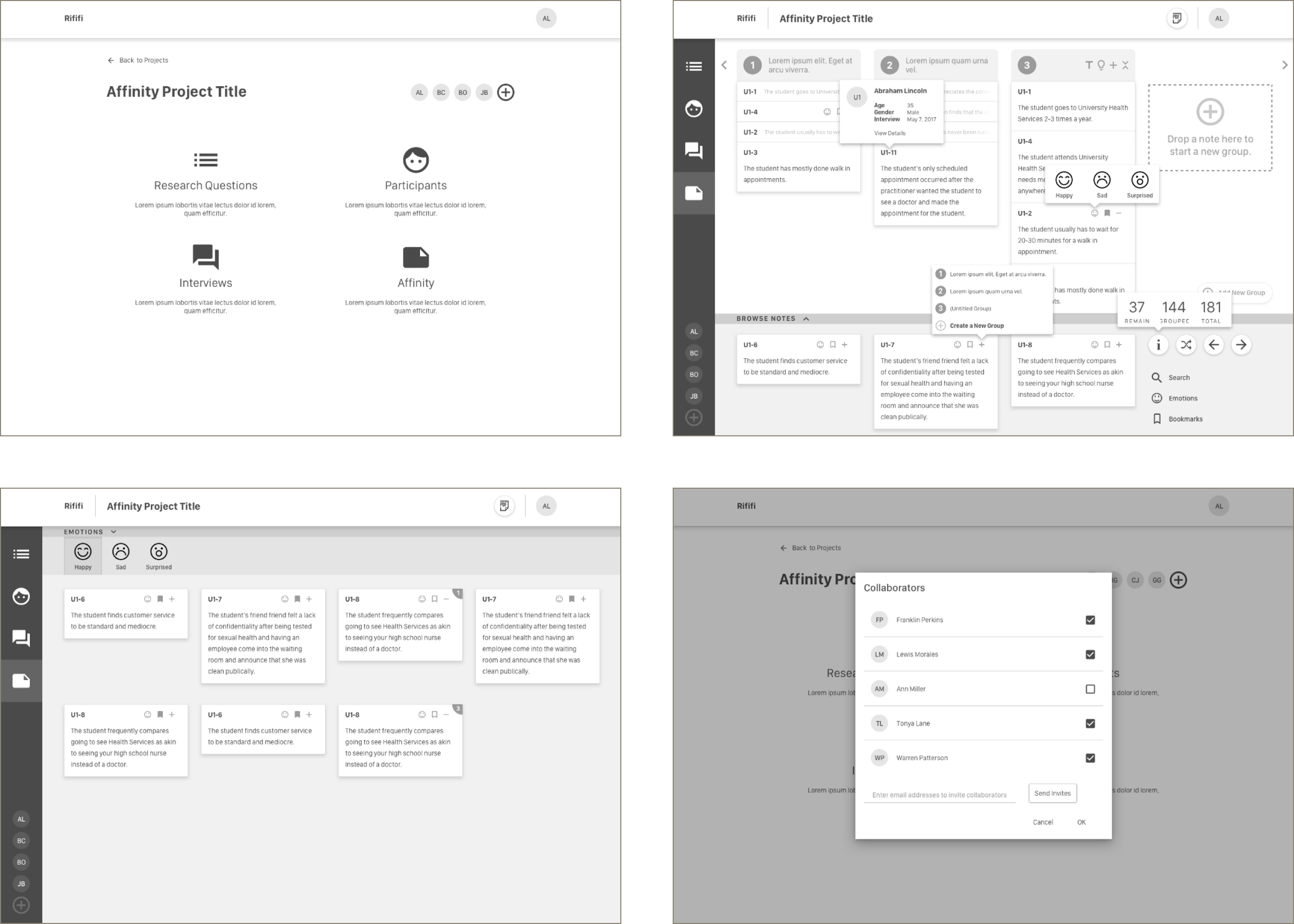 UI Design
I created 4 icons to represent the 4 sections (research questions, participants, interview notes, affinity diagram) in our app. Dark blue was selected as the primary color and used throughout the app. I also created an illustration for the homepage of the app.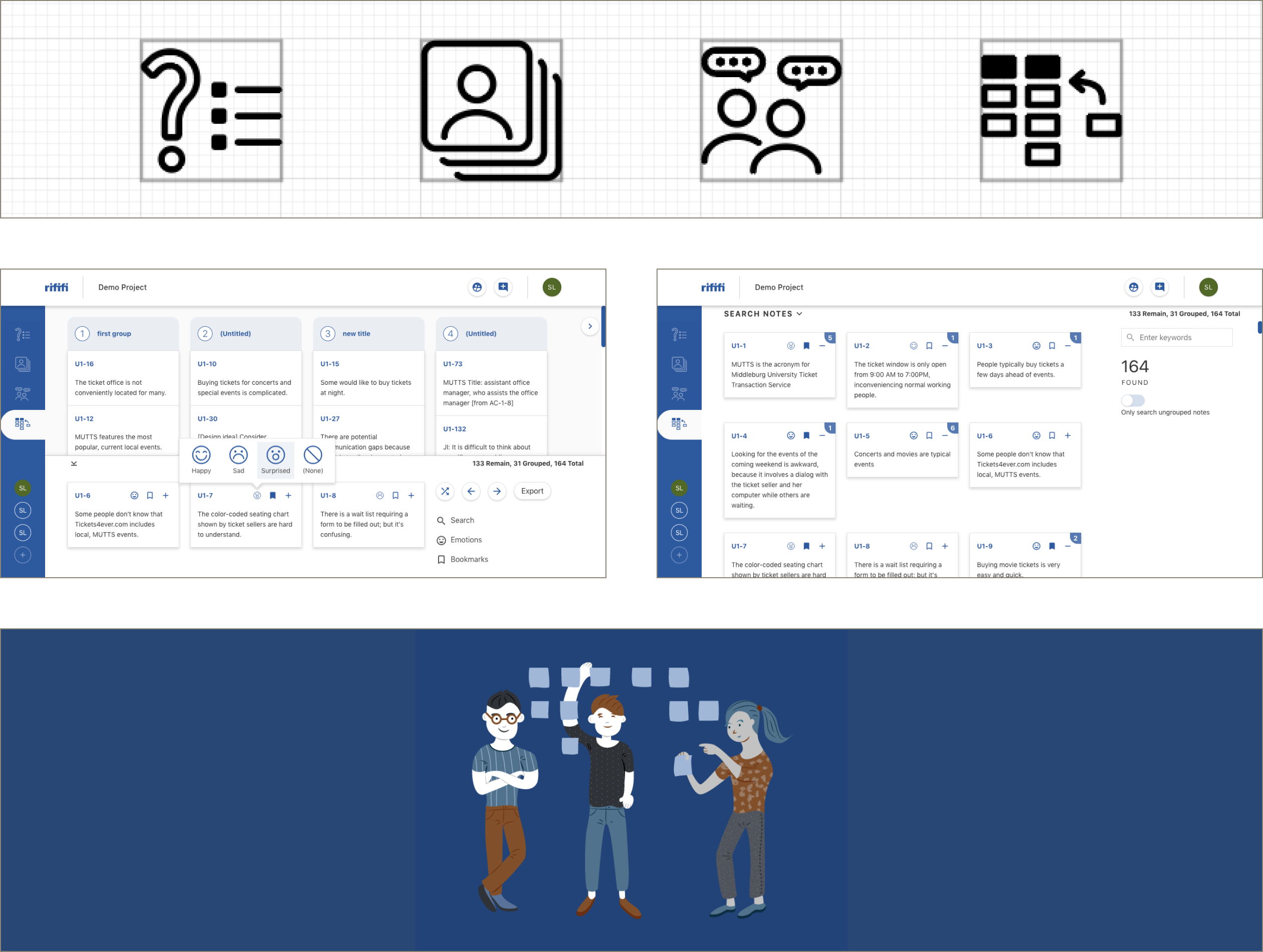 Outcomes
We completed the design work in Nov 2017, and I finished coding the MVP in May 2018. The MVP was rolled out to the alumni of the master of human-computer interaction program of Carnegie Mellon University in May 2018 for testing. Here is some of the feedback.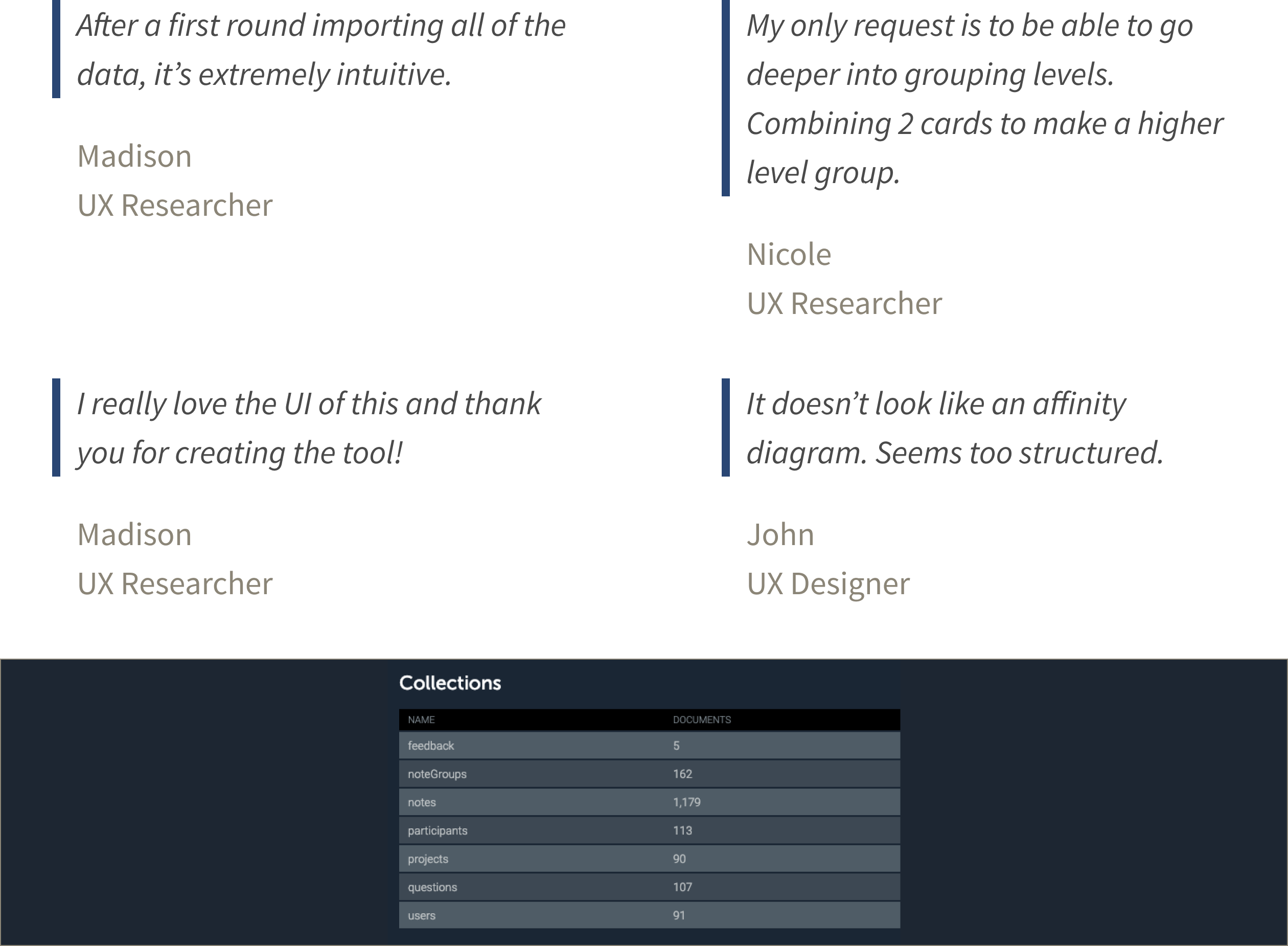 Full Case Study